RIA Database is the largest producer of investment webcasts in the industry, and we also attract the largest advisor audience. Uniquely positioned, RIA Database generates qualified leads via white-labeled, sponsored presentations.
Upcoming and prior events can be viewed here: https://www.riachannel.com/webcasts. Our services include:
Target Marketing
Dedicated Email Blasts
Channel Targeting & Segmentation
Copy and Email Creation
Banner Advertising on RIA Channel
Custom Participant Survey
Thank You Emails
Technology & Execution
Event Management
Practice Session & Training
Moderator
Editing
Continuing Education Credits
On Demand Management
We build custom, interactive, data dashboards after each of our events. Dashboards help you to determine ROI with charts, graphs, and audience engagement statistics. Follow up tasks are simplified, your data is centralized and custom reports make CRM integration fast and easy. More Information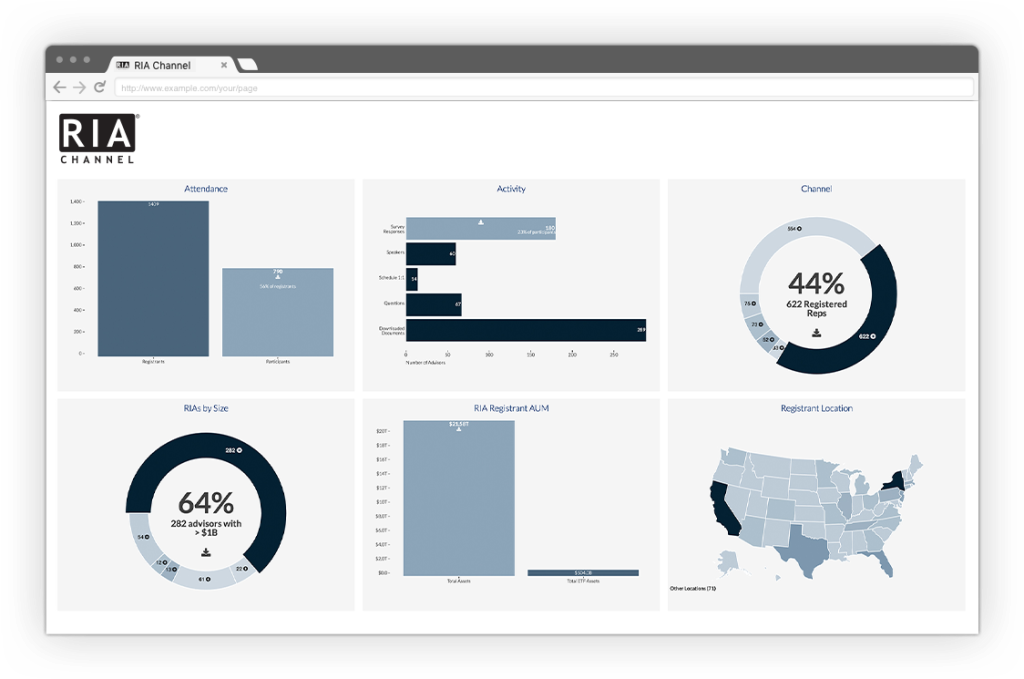 Advisor Audience
2,000+
Average Registrants
Top RIA Audience
Of the "Top 100 RIA Firms", 75 viewed one or more of our webcasts within the last 12 months. In aggregate, these firms manage:
$179 Billion in total AUM
$130 Billion in discretionary AUM
290,000+ customer accounts
262,000+ discretionary accounts
$3.5 Billion average AUM per firm
$2.6 Billion average discretionary AUM per firm
Notable Webcast Participants:
Abacus Planning
Baker Street Advisors, LLC
Balasa Dinverno Foltz LLC
Beacon Pointe Advisors, LLC
BKD Wealth Advisors, LLC
Camden Capital, LLC
Cassaday & Co Inc
Chevy Chase Trust Company
Choate Investment Advisors
Crestwood Advisors LLC
Dowling & Yahnke, LLC
EP Wealth Advisors
Exencial Wealth Advisors
Geller Family Office Services LLC
Grimes & Company, Inc.
Halbert Hargrove
HBKS Wealth Advisors
Horter Investment Management, LLC
Innovest Portfolio Solutions LLC
IWP Wealth Management LLC
Level Four Advisory Services
Loring, Wolcott & Coolidge
LourdMurray
Mercer
Mariner Wealth Advisors, LLC
Mcintosh Capital Advisors, Inc.
Mission Wealth Management, LLC
Moss Adams Wealth Advisors LLC
myCIO Wealth Partners, LLC
Oxford Financial Group, Ltd
Pinnacle Advisory Group, Inc.
Plancorp, LLC
Plante Moran Financial Advisors
Rehmann Financial
Retirement Advisors Of America
Retirement Income Solutions, Inc.
SEIA
SJS Investment Services
Steele Capital Management, Inc.
Sullivan, Bruyette, Speros & Blayney, LLC
Summit Advisor Solutions
Symmetry Partners
TCI Wealth Advisors, Inc.
The Burney Company
Vicus Capital, Inc.
Vista Wealth Management, LLC
Wealth Enhancement Advisory Services, LLC
Zions Capital Advisors, Inc.
Branding
We promote your brand to advisors through white-labeled marketing blasts, registration pages, and webcast consoles. We promote your events on RIA Channel, and deliver leads to you via our proprietary, interactive data dashboards. Your brand will be featured on the four promotional components of every event as shown below: